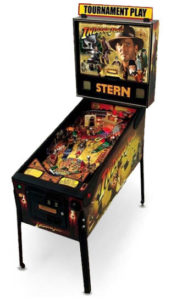 The initial kickoff date of the Indiana Jones Pinball way back June in the year 2008 was definitely a blast. Both Indiana Jones movies and pinball fans sure were hyped about getting their hands on to the much anticipated machine. Nevertheless, there are a lot of things that you would love about this edition which is provided none other than the original creators of the pinball machines through the years, Stern Pinball Incorporated.
First of all, this Indiana Jones version of the pinball machine is based on all 4 different installments of the series which would include the latest one shown on theaters in May 2008, "The Kingdom Of The Crystal." The crafting of it wouldn't have been possible without the actual tandem behind it, John Borg the designer and Lonnie Ropp, the rules and software engineer. It's just amazing how they are able to incorporate every Indiana Jones film into a single play field of the pinball which would not only make a good entertainment delight to the fans of the movies, but also to other gamers and home buddies. Another thing that you would love about this pinball machine is the original performance of the "Raiders March" it features taken from the "Raiders of the Lost Ark" that was given life by the wonderful London Symphony Orchestra. It also highlights a device called the "Ark of the Covenant" that functions to open and release an 8-ball multiple-ball round which would cover the Crystal Skull apparatus, Sankara Stone, Holy Grail, Map Room with a pivoting Cairo Swordsman, as well as a magnet that will make the ball go crazy.
The creators of the game said that the thrill they had with the making of the machine is not only half the thrill gamers will have on the actual play. Nevertheless, the Indiana Jones pinball will surely keep your cravings for quality gaming entertainment fully satisfied. What's more? You're definitely at the right site to find an authentic one for yourself!