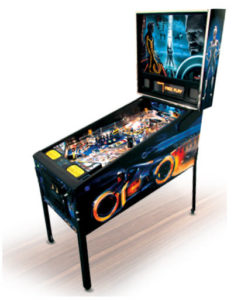 Have you ever thought about playing the Tron Pinball machine? Well, why wouldn't you? There's a lot to love about this version of the pinball machine. It was released last year, 2011 in the month of May with a special limited edition that had come out the month after. It is themed from the famous Disney film, Tron Legacy. Through this certain pinball machine, you will definitely recognize how unique it's been built with all of the main characters of the film being put together in a single 3D back glass with a distinctly magnificent story outline.

Side by side, John Borg, a creative designer from the Stern Pinball Inc. and the Hall of Fame figures, John Youssi had worked together in order to successfully design the concept and total art package of the Tron Pinball. In addition, David Thiel was the man behind the engineering of the sound features of the machine in order to spice things up. It features various electrifying sound bites that are all from the main characters of the films, as well as original music scores, particularly from Daft Punk.
On the main note of this pinball machine, players would be able to battle as the one and only Sam Flynn. He will be on the network to fight off Rinzler and Clu. You will be able to enjoy yourself with multi-ball rounds that are themed with the excerpts from the movie itself. For instance, you can ride the ramps for a wonderful light cycle batter on various levels on the sophisticated Grid, beat the power-driven Recognizer in order to expose the pivoting identity disc of Rinzler or fire up the ball from the disc of Rinzler to start an awesome Disc War.
The other highlights of this pinball machine would include the presence of other characters from the film such as Gem, Zuse, Kevin Flynn and Gora. Furthermore, you're definitely at the right site to get a Tron Pinball machine for an additional home entertainment system at home.