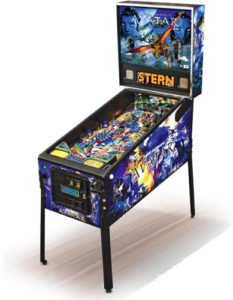 The Avatar Pinball is an innovative game based on the Oscar and Golden Globe award winning movie 'Avatar'. This unique pinball game transforms James Cameron's memorable classic into an unbelievable gaming experience. The Avatar Pinball transfers Pandora on a mission to guard the Pandora inhabitants from an aggressive group. It has a 3-D graphic panel on the front of the backbox. It produces amazing transparency, gravity and colour. It is also characterized by unbelievable audio and video impressions from the movie that makes it astonishingly real.
In Avatar Pinball, you take the role of Jack Sully. The pinball needs to be acquired in the carrier link. This uncovers the figure of Jake Sully and transforms you into his incarnation. You will need complete several mystical adventures. This includes releasing yourself from the Thanator, riding the grand Leonoptyrix and combating the Viper Wolves. You will also need to defeat Colonel Miles Quaritch to earn multiple balls as a reward. Your journey will take you across the Hallelujah peaks and fight against the RDA. The mission is to protect the local people from demolition. Some of the other game features are spirit ridge, set of movable targets, amazing magnet for adhoc play, inactive objects and a number of ball encounters.
This phenomenal game showers the timeless pleasures of pinball and also takes gaming to a new dimension by presenting you as the ball. It's an exciting experience to see your avatar getting banged like a doll with a silly smile on its face. The visuals are fantastic and provide an eye pleasing experience. The game creates fantastic humour and entertainment and it's difficult to keep the avatar from crashing down the hole. The music is fabulous and soothing to your ears. The Avatar pinball is a superb gaming invention that will surely fascinate you.